Naast onze focus op de ontwikkeling van nieuwe features en innovaties om klanten te helpen bij het opzetten van hun beste kaartontwerp- en beheersysteem, werkt ScreenCheck er ook aan om CardsOnline nog toegankelijker te maken voor iedereen, ook voor mensen met een beperking. De nieuwe release CardsOnline 7.3 biedt een mooie stap richting CardsOnline nog toegankelijker te maken. CardsOnline 7.3 heeft ook een geweldige upgrade voor de Kaartontwerper. Maak nu een Wallet Pass-ontwerp naast de digitale id als PDF en het standaardkaartontwerp. Wees nog creatiever met de nieuwe kleurverloopoptie, nauwkeuriger met de uitlijn mogelijkheid  en vergeet nooit uw ontwerp op te slaan met de optie voor automatisch opslaan.
Digitale Toegankelijkheid

Het is belangrijk om onze software voor iedereen toegankelijk te maken, ook voor mensen met een beperking. ScreenCheck werkt aan het verbeteren van toegankelijkheid van CardsOnline om zoveel mogelijk te voldoen aan de WCAG (Web Content Accessibility Guidelines) richtlijnen en ervoor te zorgen dat de juiste aanpassingen worden gedaan.
CardsOnline 7.3 bevat meerdere verbeteringen, waardoor onze online applicatie nog toegankelijker is. Bekijk de release notes voor meer informatie.
Nieuwe Feature: Wallet Pass
CardsOnline introduceerde met de laatste release de nieuwe functie Digital ID als PDF, nu maakt CardsOnline 7.3 het mogelijk om ook een Wallet Pass te ontwerpen en uit te geven.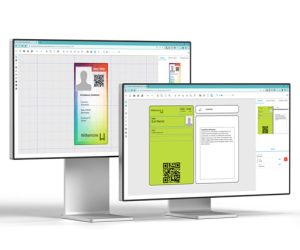 Open een Wallet Pass (met de .pkpass-extensie) met de Apple Wallet-app op iPhone of de WalletPasses-app op een Android-telefoon. Bewaar een digitale versie van uw creditcards of betaalpassen, winkelkaarten, instapkaarten, bioscoopkaartjes, coupons, beloningskaarten, studenten-ID-kaarten en meer op één plek op uw telefoon met behulp van deze Wallet-apps.
In de Kaartontwerper is het ontwerp voor de Wallet-pas beperkt tot een specifieke layout. De layout voor de Wallet Pass toont twee schermen. Het eerste scherm is voor het ontwerp van de Wallet Pass, het tweede scherm is om extra informatie aan de pas toe te voegen. Een gebruiker kan toegang krijgen tot deze extra informatie door op de "i"-informatieknop op de pas te klikken.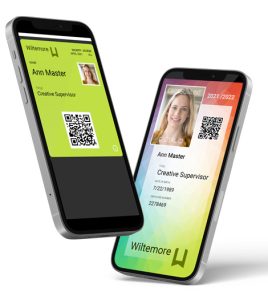 Voeg een achtergrondkleur, logo, meerdere statische & dynamische tekstvelden, een pasfoto en een QR-code toe aan uw Wallet Pass-ontwerp en sla het op. De Wallet Pass is klaar om per e-mail naar geselecteerde kaarthouders te verzenden via de CardsOnline Data Manager.