A great start of the year 2016 with an innovative kick-off at the Facility Trade Show.
ScreenCheck starts the year well at the Facility Trade Show, where we were able to present our products BadgeMaker, CardsOnline and ID solutions such as Care ID in an innovative way.
The Facility Trade Show was also one of the first places to introduce and celebrate the 25 year anniversary of ScreenCheck. Using a Virtual Reality Experience ScreenCheck gave people a unique insight into her ID world. The Virtual Reality Experience was shown by an Oculus Rift. For many visitors, this was their first experience with Virtual Reality glasses, which made ​​for fun and positive feedback.
To give the opportunity for visitors to share their VR experience at home and to mark the 25 year anniversary, ScreenCheck also made the ScreenCheck VR Experience ​​available as an app for smartphones. Not everyone has a VR glasses at home, so as a give-away visitors were given a special Google Cardboard. The surprised and joyful reactions made ​​for an unforgettable experience and a wonderful start to a festive year.
In addition to the unique virtual reality experience people could also experience the CardsOnline Service Portal. After a fast registration using the service portal on a smartphone visitors received a printed ID card with their own pictures and data in just a few simple steps.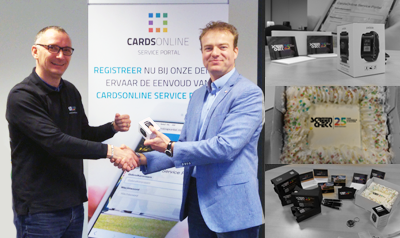 The visitors who registered with the CardsOnline Service Portal got the chance to win a Pebble SmartWatch. Last week after a draw, this gadget was festively handed over with coffee and cake to Martijn van der Borght of Borght Facility Management.