Release BadgeMaker 2.10 brings an updated User Interface for BadgeMaker Identity, offering an efficient new quick menu and improved look for the card designs overview in your project. With the 2.10 release also comes the support for the Dascom DC-7600 printer, Oracle service names, the Data Card XPS Luster ribbons, the needed fixes and some nice improvements.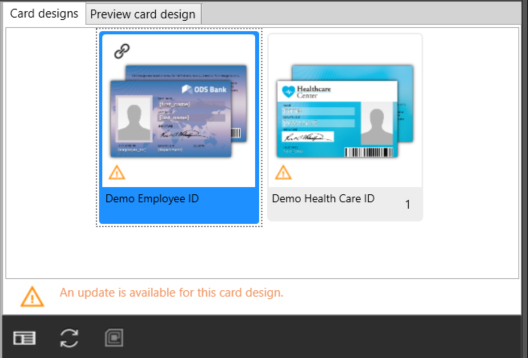 The "Card designs" tab shows an overview of the designs added and/or linked to your project. The new link icon allows you to link one or more selected records to this card design. It is also possible to unlink records with the unlink icon in the top right corner of the selected card design. Select a record and click on the "Preview card design" tab to see a preview of the card design linked to the record.

The warning icon lets you know an action is needed for this card design. Click on the card design to see which actions are needed. An action can be that an update is available for the design for example.

Update a card design using the update icon in the quick menu.

The card design icon gives a quick navigation to the card design settings of the selected card.

With the encode icon you can quickly navigate to the encode settings of the selected card. If a card design does not have encoding, the icon will be greyed out.
BADGEMAKER RELEASE NOTES VERSION 2.10:
New features
* Updated the card design preview panel with more information.
* Added support for Dascom DC-7600 printers.
* Added support for Oracle service names.
* Added support for Luster ribbons for Datacard XPS printers.
Improvements
* Added a note about support for ODBC being retracted.
* Options list values are now sorted alphabetically.
* Improved card design preview panel error reporting.
* Lowercase magstripe data is now automatically converted to uppercase, instead of causing an encoding failure.
Fixes
* Fixed that Zebra ZXP 7, 8 and 9 didn't properly handle specialty ribbons when printing without encoding.
* Fixed that the contact slots of some Omnikey 5022 and 5027 models were recognized as contactless.
* Fixed that importing data into a Connect project would sometimes fail for certain records.
* Fixed that Example Project 1 contained a bad initial auto-increment counter value.
* Fixed that deleting biometric images would not work in certain projects.
* Fixed that Omnikey 5022 and 5027 were not recognized as contactless card-readers.
* Fixed the printer implementation preference configuration system.
* Fixed that creating empty backup files on a Desfire card would fail.
* Fixed that several operations (linking card designs, loading/deleting records, etc.) could fail with large numbers of records.
* Fixed that record data could not be loaded in Connect projects.