Release BadgeMaker 2.10 brengt een verbeterde gebruikersinterface voor BadgeMaker Identity, met een efficiënt nieuw menu en een verbeterd uiterlijk voor het overzicht van kaartontwerpen in uw Identity project. Met de 2.10-release komt ook de ondersteuning voor de Dascom DC-7600-printer, Oracle-servicenamen, de Data Card XPS Luster-linten, de benodigde fixes en enkele leuke verbeteringen.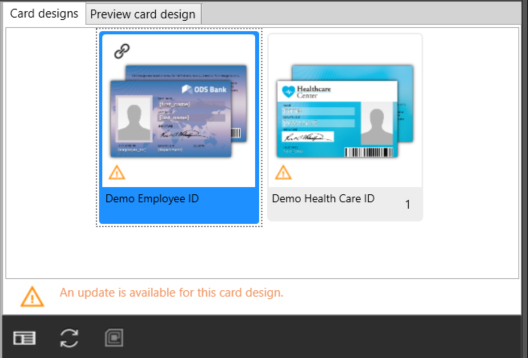 Het tabblad "Kaartontwerpen" toont een overzicht van de ontwerpen die aan uw project zijn toegevoegd en/of gekoppeld. Met het nieuwe koppelingspictogram kunt u een of meer geselecteerde records aan dit kaartontwerp koppelen. Het is ook mogelijk om records te ontkoppelen met het ontkoppelpictogram in de rechterbovenhoek van het geselecteerde kaartontwerp. Selecteer een record en klik op het "Voorbeeld kaartontwerp" tabblad om een ​​groot voorbeeld te zien van het kaartontwerp dat aan het record is gekoppeld.

Het waarschuwingspictogram laat je weten dat er een actie nodig is voor het kaartontwerp. Klik op het kaartontwerp om te zien welke acties nodig zijn. Een actie kan zijn dat er een update beschikbaar is voor bijvoorbeeld het ontwerp.

Update een kaartontwerp met behulp van het updatepictogram in het snelmenu.

Het kaartontwerppictogram geeft een snelle navigatie naar de kaartontwerpinstellingen van de geselecteerde kaart.

Met het coderingspictogram kunt u snel navigeren naar de coderingsinstellingen van de geselecteerde kaart. Als een kaartontwerp geen codering heeft, wordt het pictogram grijs weergegeven.
BADGEMAKER RELEASE NOTES VERSION 2.10:
New features
* Updated the card design preview panel with more information.
* Added support for Dascom DC-7600 printers.
* Added support for Oracle service names.
* Added support for Luster ribbons for Datacard XPS printers.
Improvements
* Added a note about support for ODBC being retracted.
* Options list values are now sorted alphabetically.
* Improved card design preview panel error reporting.
* Lowercase magstripe data is now automatically converted to uppercase, instead of causing an encoding failure.
Fixes
* Fixed that Zebra ZXP 7, 8 and 9 didn't properly handle specialty ribbons when printing without encoding.
* Fixed that the contact slots of some Omnikey 5022 and 5027 models were recognized as contactless.
* Fixed that importing data into a Connect project would sometimes fail for certain records.
* Fixed that Example Project 1 contained a bad initial auto-increment counter value.
* Fixed that deleting biometric images would not work in certain projects.
* Fixed that Omnikey 5022 and 5027 were not recognized as contactless card-readers.
* Fixed the printer implementation preference configuration system.
* Fixed that creating empty backup files on a Desfire card would fail.
* Fixed that several operations (linking card designs, loading/deleting records, etc.) could fail with large numbers of records.
* Fixed that record data could not be loaded in Connect projects.