Betrouwbaarheid en veiligheid: ingebouwd.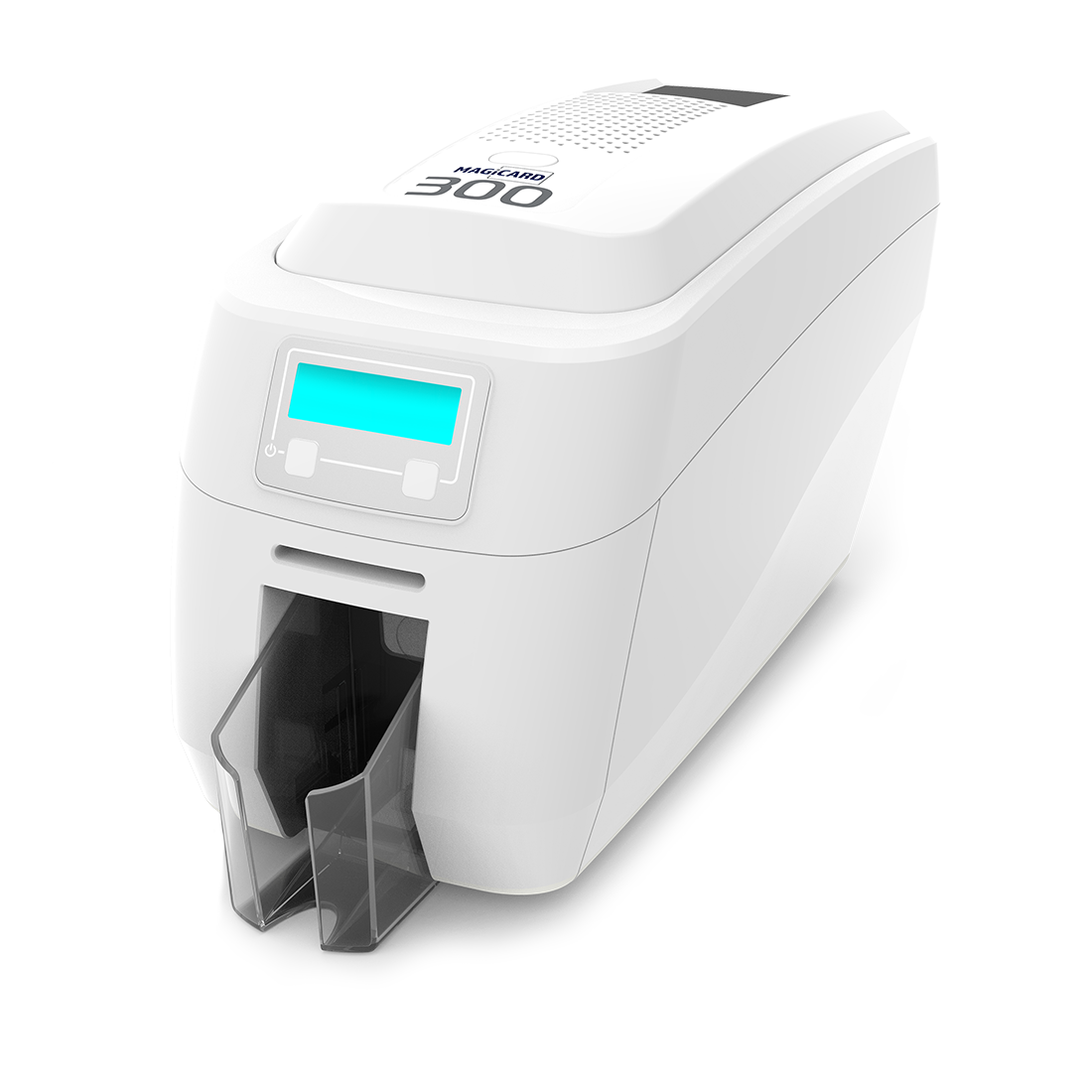 Robuust, duurzaam en betrouwbaar, de Magicard 300 kaartprinter is perfect voor scholen, hogescholen en middelgrote bedrijven die tot 10.000 kaarten per jaar printen. Als het gaat om veilig en betrouwbaar ID-kaart afdrukken, kunt u erop vertrouwen dat de 300 deze levert.
Van hoge kwaliteit
De Magicard kaartprinter biedt een breed kleurenspectrum en drukt af met 300 x 300 dpi – ideaal voor foto's op ID-kaarten en een nauwkeurigere weergave van bedrijfslogo's en andere afbeeldingen.
Makkelijk te gebruiken
Om u snel en gemakkelijk aan de slag te helpen, integreert de Magicard 300 met de bestaande netwerkinfrastructuur 'out of the box' via USB, waardoor de installatietijd wordt geminimaliseerd en er weinig technische kennis nodig is.
Flexibel
Bulkprint met de verwisselbare 100-kaart feeder of print eenmalige of herschrijfbare kaarten met de hand-feeder.
Efficiënt
De firmware van de 300 analyseert de kleuren die door de bestuurder worden verzonden en het aangebrachte filmtype en drukt de panelen in een volgorde af, zodat er geen filmpanelen verloren gaan.
Veerkrachtig
Gebouwd met hoogwaardige, speciaal gebouwde materialen en geavanceerde componenten, is de Magicard 300 ontworpen en vervaardigd in Magicard's centre of excellence voor productie in het Verenigd Koninkrijk en wordt ondersteund door 24/7 technische ondersteuning en garantie.
Hoge snelheden
Elke enkelzijdige kaart in kleur, met HoloKote®, kan in minder dan 23 seconden worden afgedrukt, terwijl een versie met alleen hars minder dan 6 seconden duurt.
Updates en upgrades
De Magicard kaartprinter is gemakkelijk up-to-date te houden met de nieuwste functies en fixes wanneer deze beschikbaar zijn.
Software
BadgeMaker,CardsOnline of een andere printapplicatie.