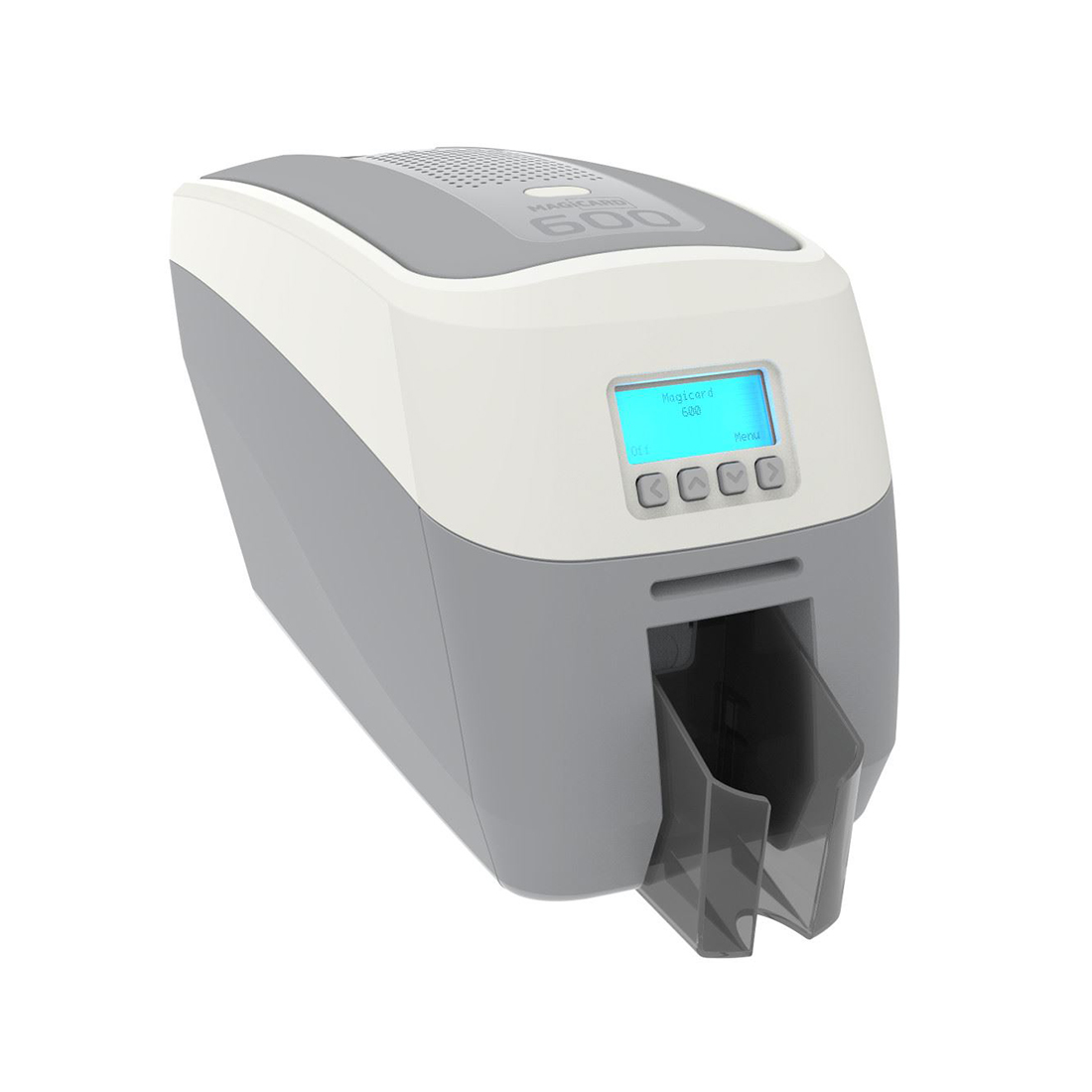 Een kaartprintoplossing van wereldklasse die hogere afdruksnelheden, strikte beveiliging en de fijnste details levert, deze 600 kaartprinter van Magicard integreerd naadloos met bestaande infrastructuur om veilige verwerking van ID-gegevens te leveren.
De Magicard 600 kaartprinter enkelzijdig is een snelle, compacte kaartprinter met een brede inzetbaarheid. De printer display informeert u over de status van uw printer. De printer heeft de mogelijkheid om uw print te voorzien van een echtheidskenmerk, dit echtheidskenmerk kunt u ook voorzien van uw beeldmerk. De kaartprinter is voorzien van een functie om het verbruikte printerlint zo te verwerken dat deze onleesbaar is.
Door de aanwezige USB- en netwerkaansluiting is het vrijgemakkelijk om de printer aan te sluiten op uw netwerk. Verder is deze kaartprinter voorzien van een WiFi- adapter.
Standaard is de Magicard 600 een enkelzijdig model. Tegen meerprijs kunt u hem uitbreiden naar dubbelzijdig.
Oog voor detail
U kunt afdrukken op 600 x 300 dpi * en kunt u zelfs de kleinste tekst opnemen en deze leesbaar maken.
Superieure kwaliteit
De Magicard 600 biedt een breed kleurenspectrum, zodat het afdrukken levendiger en kleurrijker is. Dat betekent een getrouwere weergave van het onderwerp – perfect voor foto's op identiteitskaarten en een nauwkeurigere weergave van bedrijfslogo's en andere afbeeldingen.
Plug en play
Om u snel en gemakkelijk aan de slag te helpen, integreert de Magicard 600 met de bestaande netwerkinfrastructuur 'out of the box' via USB, waardoor de insteltijd wordt geminimaliseerd en er weinig technische kennis nodig is.
Hogere snelheden
Elke full colour, enkelzijdige kaart, met HoloKote®, kan in minder dan 20 seconden worden afgedrukt, waardoor Magicard 600 tot 190 kaarten per uur kan afdrukken.
Updates en upgrades
De Magicard printer blijft up-to-date met de nieuwste functies en fixes wanneer deze beschikbaar zijn
Deze kaartprinter wordt geleverd met 3 jaar fabrieksgarantie.
Software
BadgeMaker,CardsOnline of een andere printapplicatie.
Specificaties
Print mode
colour dye sublimation, monochrome thermal printing and rewritable technology
Print speed – single sided
Colour: 18s /card, Mono 5s /card
Encoding security options
Magnetic stripe: HiCo and LoCo ISO 7811, JIS2: /smart card Contact chip, MIFARE®, DESFire® and iClass®. Others available.
Card capacity
100 card feeder, 70 card stacker
Printer interfaces
High Speed USB 2.0, USB 3.0 compatible – Type B, 10/100 Ethernet. External Host USB Port. Wi-Fi via supplied dongle.
Driver compatibility
Windows 7, 8, 10 (32 and 64bit) Windows server 2008, 2012, 2016. Mac OS X 10.9.0 upwards. Linux with CUPS support.
Weight
4.7kg /10.4lb
Power source
External power supply 100-240V 50-60Hz autoranging.
Dimensions
475.5mm L x 211.5mm W x 248mm H / 18.9" L x 8.3" W x 9.8" H (including feeder and stacker.)
Operating environment
Sheltered office environment 10°C to 30°C / 50°F to 85°F.