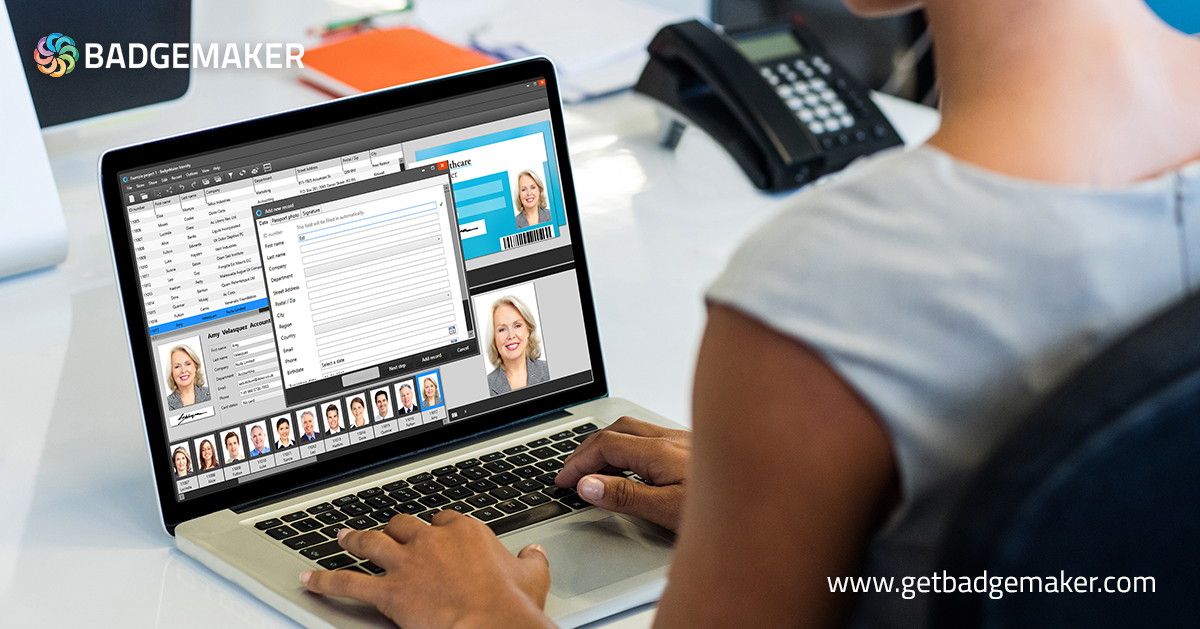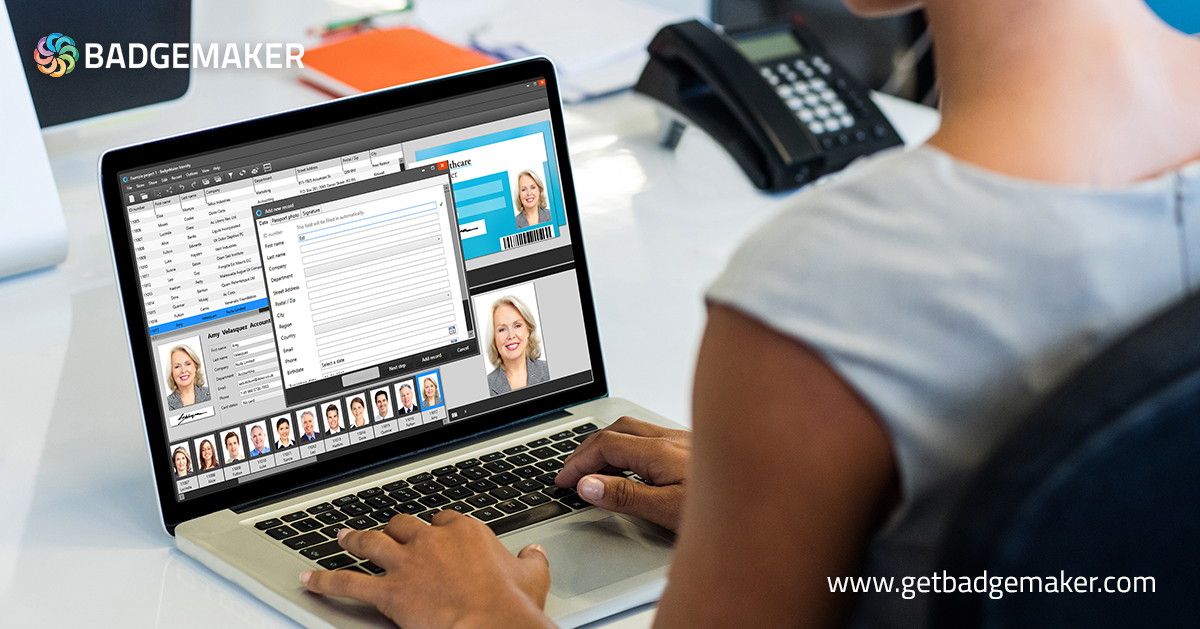 BadgeMaker
You name it, we badge it
ScreenCheck introduceert BadgeMaker. De ID kaart software dat alles bevat wat u nodig heeft voor uw kaartproductieprocess.
BadgeMaker bestaat uit een sterke basis die u helpt met het creëren van kaartontwerpen in BadgeMaker Design en het produceren en printen van kaarten in BadgeMaker Identity.
BadgeMaker Card Designer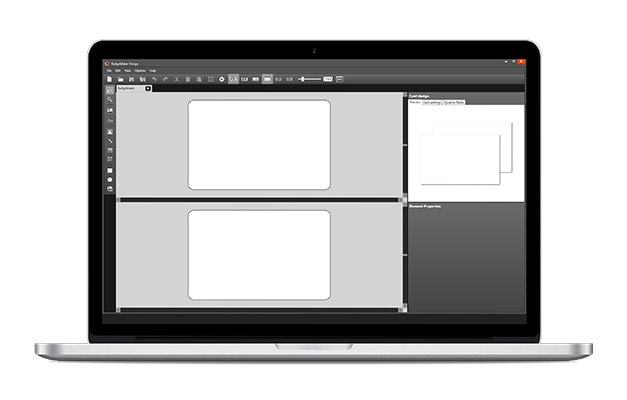 Ontwerp een ID kaart in maar een paar stappen
Creër een kaartontwerp. Start met het toevoegen van een achtergrondafbeelding en logo, voeg figuren toe om tekst te kunnen benadrukken en voeg plaatshouders toe voor pasfoto's en handtekeningen.
BadgeMaker Dynamische Data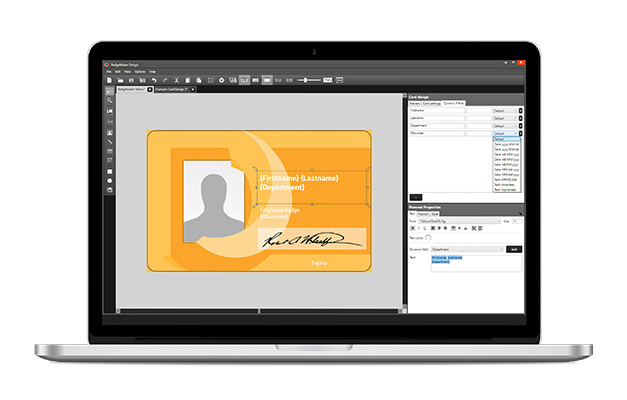 Voeg Statische en Dynamische Tekst toe
Voeg statische en dynamische tekst toe aan het kaartonwerp, na het opzetten van een layout.
BadgeMaker Barcodes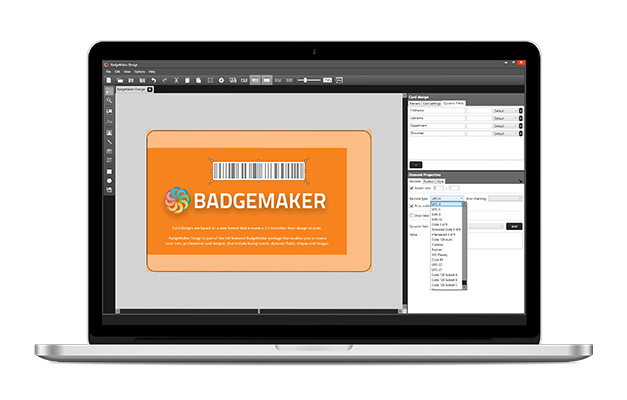 Kies uit een grote selectie verschillende type barcodes
BadgeMaker heeft de mogelijkheid om plaatshouders voor barcodes of QR-codes toe te voegen aan uw kaartontwerp.
BadgeMaker Dynamic logo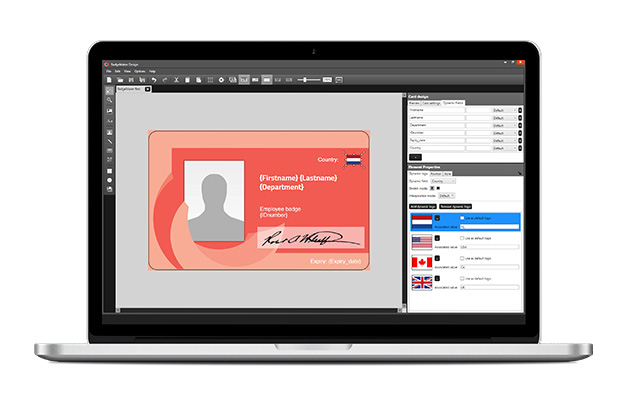 Voeg een plaatshouder toe voor verschillende afbeeldingen of logo's
Voeg een dynamisch logo toe, om zo verschillende afbeeldingen te kunnen tonen op dezelfde locatie afhankelijk van
de gekoppelde gegevens.
BadgeMaker Foto's maken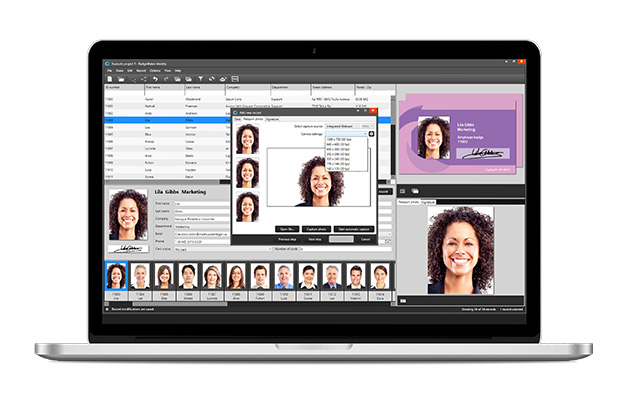 Kaartgegevens toevoegen en foto maken
Importeer gegevens, voeg records handmatig toe, maak foto's en beheer de kaarthoudergegevens.
Werk met uw kaarthoudergegevens met het gemak van bekende spreadsheet software. Maak snel perfecte foto's met gezichtsherkenning en automatisch bijsnijden.
BadgeMaker print cards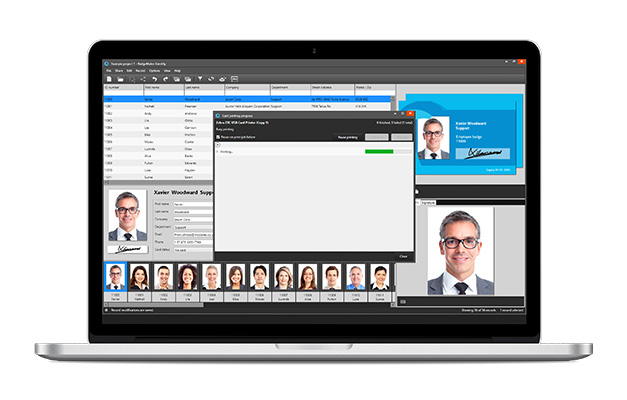 Ontwerp een ID kaart in maar een paar stappen
Badgemaker richt zich op de dagelijkse taken van het kaarproductieprocess, zoals het verwerken van de kaarthoudergegevens en het printen van kaarten.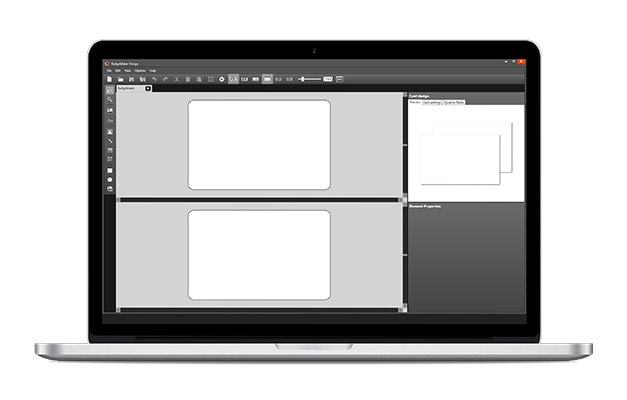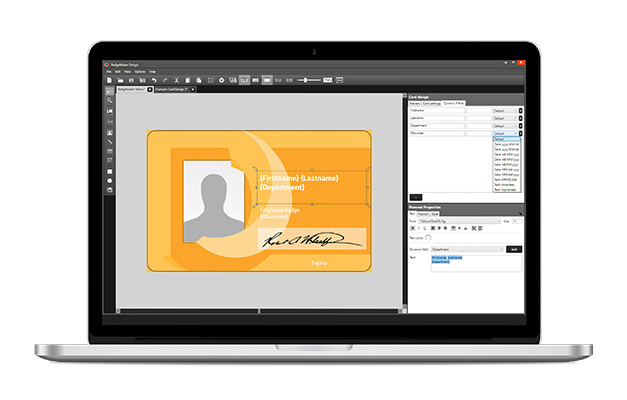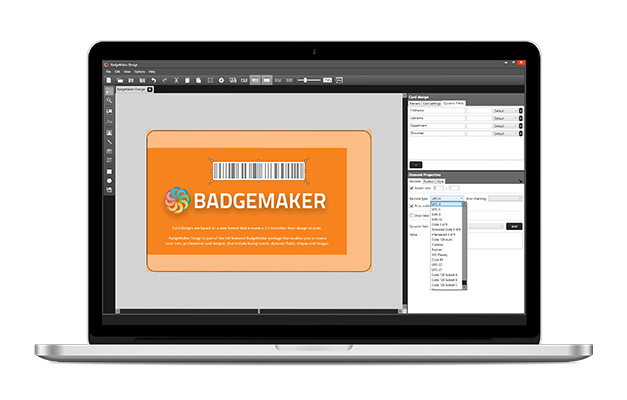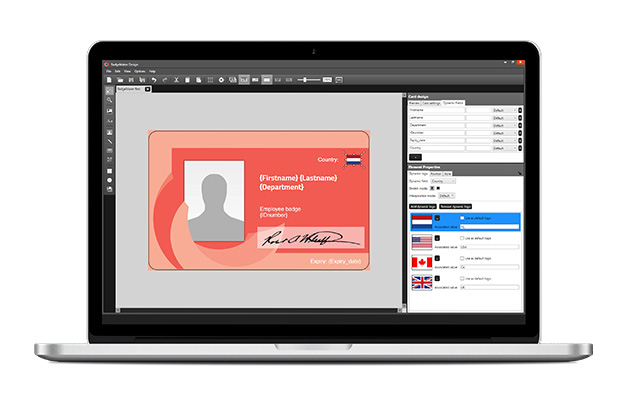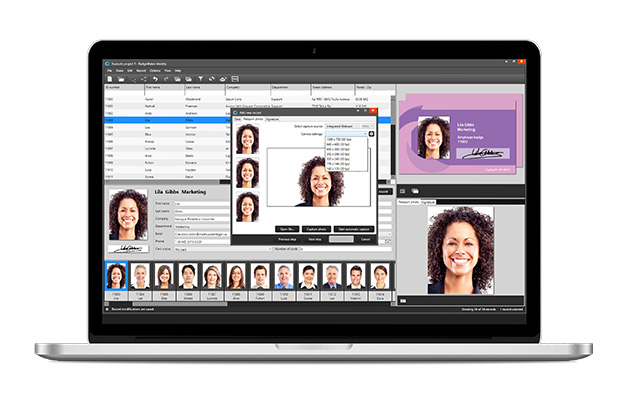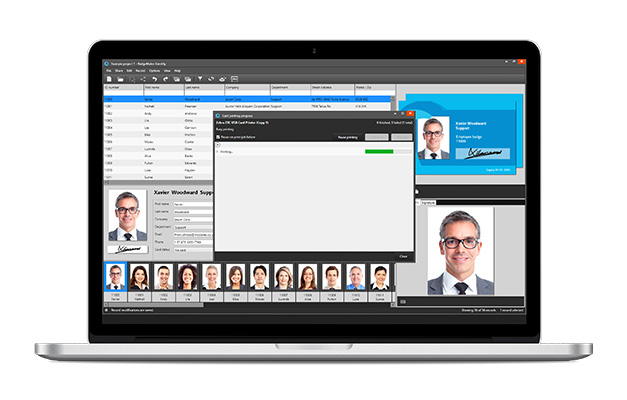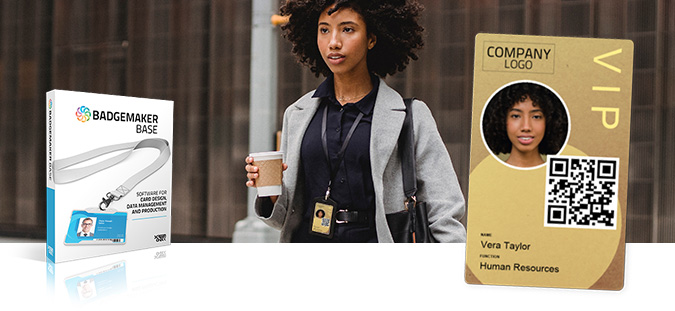 Waarom Badgemaker kiezen?
Het bekende beter gemaakt door het gebruik van de laatste technologieën
Met 25 jaar ervaring is BadgeMaker bekend in de
ID kaart industrie en biedt ervaring en kwaliteit.
Creëer Kaartontwerpen

Stel u eigen uniek vormgegeven kaartontwerp samen, door gebruik te maken van verschillende elementen, zoals afbeeldingen, figuren, tekstvelden, barcodes en dynamische logo's.
Zoek & Filter

De zoek en filter funtie is erg efficiënt opgezet, u kunt gebruikmaken van de snelzoekfunctie bovenin het gegevensoverzicht of de uitgebreide filterfunctie waarmee u specifieke lijsten kunt genereren.
Placeholders

Gebruik plaatshouders om aan te geven waar een pasfoto, handtekening, barcode of dynamisch logo getoond moet worden in uw ontwerp.
Camera & Foto's

Voeg moeiteloos hoogwaardige pasfoto's toe met onze pasfotomaker, die gezichten kan herkennen, automatisch kan kroppen en drie foto's tegelijk maakt waaruit u kunt kiezen.
Intuïtieve Interface

BadgeMaker Design biedt een bekende omgeving en herkenbare functionaliteit voor zowel beginners als bekwame grafischontwerpers, om zo creatieve en kwalitatief hoogwaardige kaartontwerpen mogelijk te maken.
Verschillende venster opties

Rastervenster, Detailvenster en het Fotovenster. De visuele ondersteuning helpt met het vinden van een specifieke kaarthouder op een snelle en efficiënte manier.
Dynamische Datavelden

U kunt uw dynamische datavelden benoemen na eigen inzien en deze in uw ontwerp plaatsen. U kunt daarna in BadgeMaker Identity uw kaartontwerp met de dynamische velden koppelen aan uw kaarthoudergegevens in uw project.
Manage Records

Importeer kaarthoudergegevens doormiddel van een Excel bestand of door een record handmatig aan te maken in BadgeMaker Identity.
Minimum
requirements
Processor Intel Pentium Dual core
G640 2,8 Ghz or equal
Memory 2GB Free Disk space
4GB Graphics
1024 x 768 Monitor/Mouse/keyboard
3 available USB ports (printer/webcam/signaturePad)
Note: Niet geschikt voor installatie op een Virtual Machine
Software
requirements
Windows 8.1 (32 bit & 64 bit)
Windows 10
Windows 11
Ondersteunde
Printers
Support voor nieuwe printers wordt regelmatig bijgewerkt doormiddel van automatische software updates.

Ondersteunde
Talen
Engels, Spaans, Frans, Duits, Pools, Portugees, Turks, Italiaans, Russisch en Nederlands