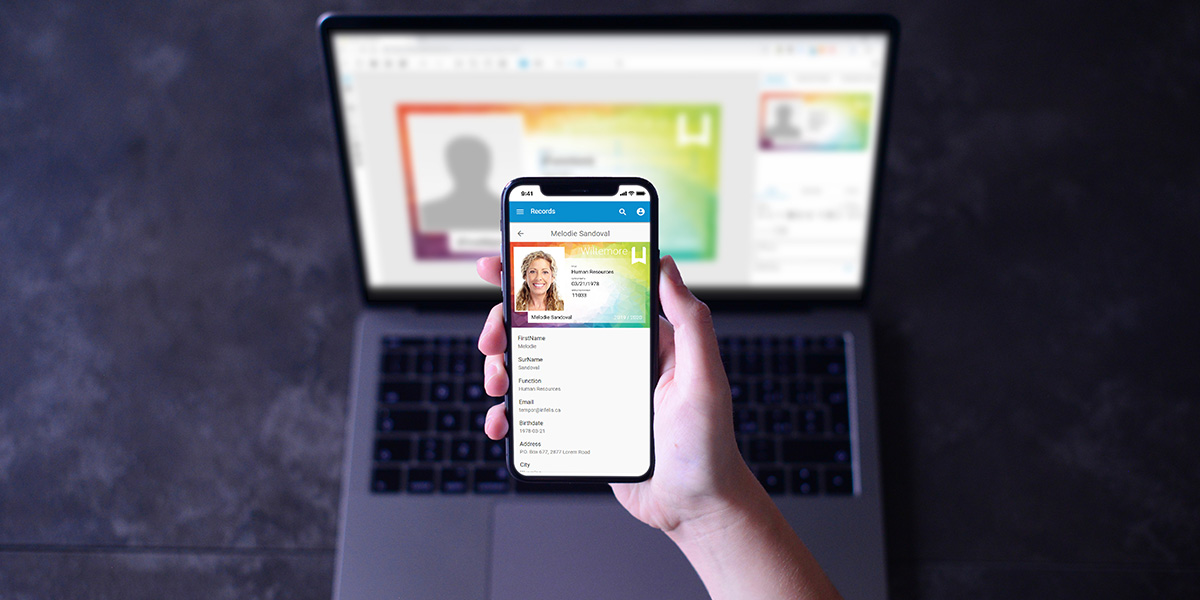 Image Slide 2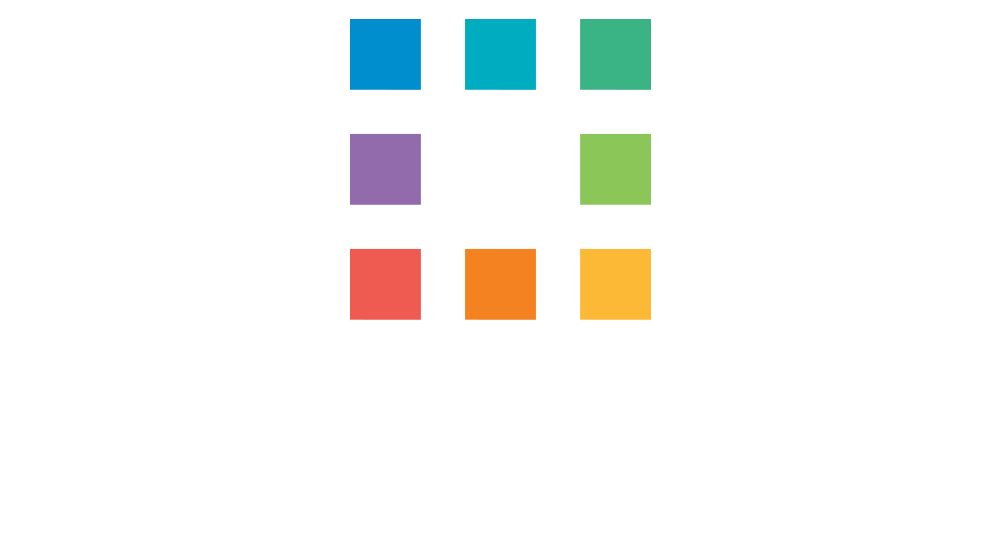 één kaart
oplossing
in de Cloud

CardsOnline
CardsOnline: één kaart, één volledig systeem
Organisaties stappen steeds vaker over op multifunctionele ID kaarten. Deze handige smartcard wordt gebruikt voor identificatie, toegang en betalen. De beheersbaarheid van een kaart en de daaraan gekoppelde systemen vormt voor veel organisaties een flinke uitdaging. Als all-round kaartmanagement oplossing introduceert ScreenCheck CardsOnline.
CardsOnline-Card-Designer NL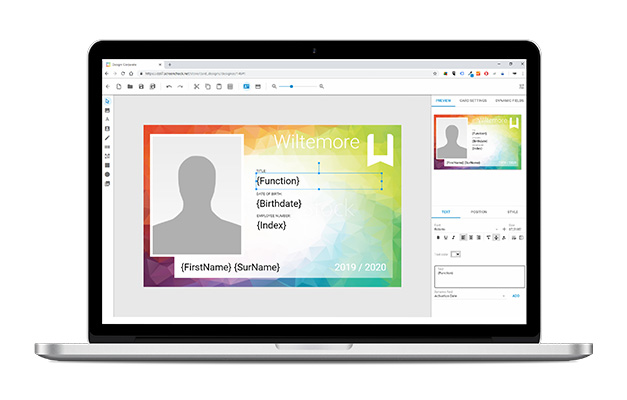 Creëer professionele kaartontwerpen met CardsOnline.
Creëer uw eigen kaartontwerp in CardsOnline met onze intuïtieve Card Designer, die alle functionaliteiten biedt voor ontwerpen van een professionele layout.
CardsOnline - Gegevensbeheer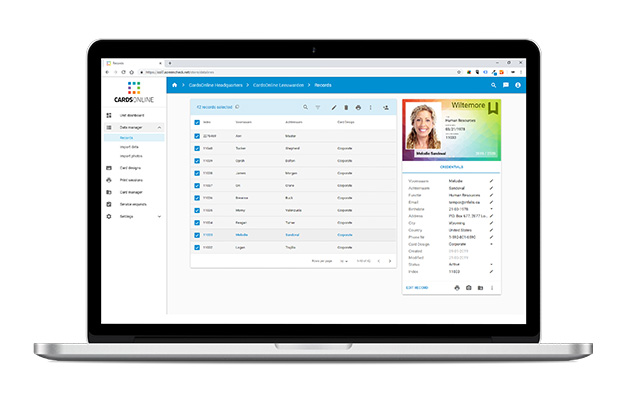 Een overzicht van uw geïmporteerde gegevens gereed om te beheren.
CardsOnline helpt u met het verbeteren van efficiëntie door de bereikbaarheid van de software voor gebruikers te verbeteren en tegelijkertijd het gegevensbeheer te vereenvoudigen. Gegevens kunnen ook handmatig worden toegevoegd en bewerkt.
CardsOnline - Foto maken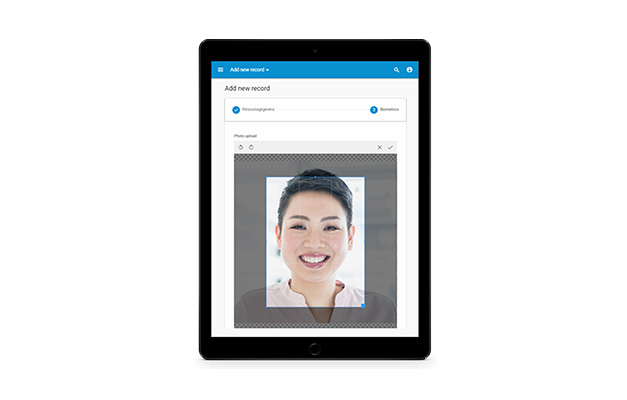 Maak foto's met gezichtsherkenning en automatisch bijsnijden.
CardsOnline ondersteunt het maken van foto's doormiddel van een webcam, het uploaden van een bestand en het automatisch herkennen en bijsnijden van een gezicht.
CardsOnline - Bulk verwerking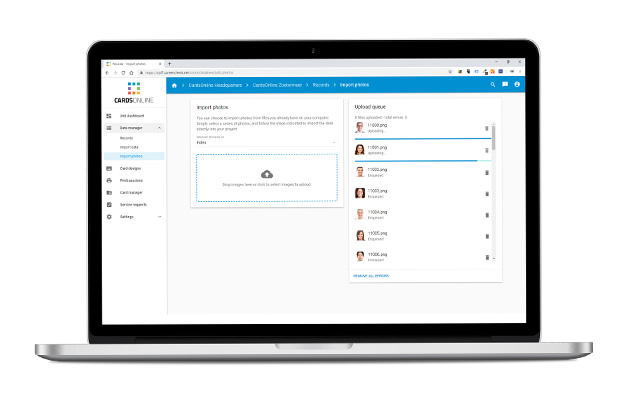 Gaat u een grote hoeveelheid ID kaarten produceren?
Maak uw kaartproductieproces sneller door gebruik te maken van bulkverwerking in CardsOnline. Voeg meerdere foto's en records tegelijk toe, email een selectie kaarthouders of print meerdere records in één keer.
CardsOnline - Bulk verwerking - copy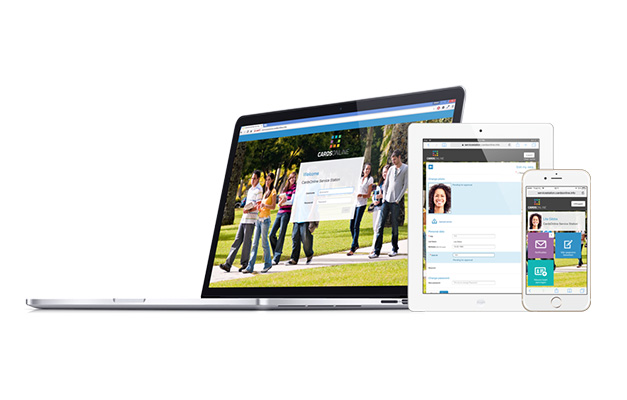 CardsOnline Service Portal
Een add-on beschikbaar als een service voor uw kaarthouders.
CardsOnline Service Portal heeft een beveiligde verbinding met CardsOnline, die kaarthouders hun eigen kaartgegevens laat bewerken, aanvragen over hun kaart laat sturen en ontvangen, een nieuwe foto laat uploaden en een verloren of gebroken kaart laat rapporten.
CardsOnline - Card Print Manager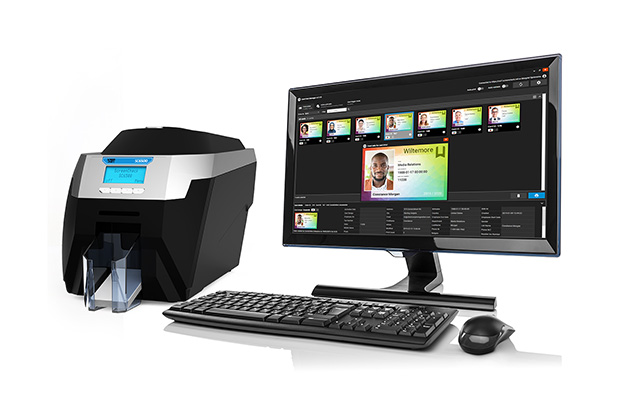 Print en codeer kaarten in CardsOnline met de Card Print Manager.
De Card Print Manager is de interface tussen de lokale printer en CardsOnline. De add-on wordt geïnstalleerd op de lokale werkstations die worden gebruikt voor het printen.
CardsOnline - Digital ID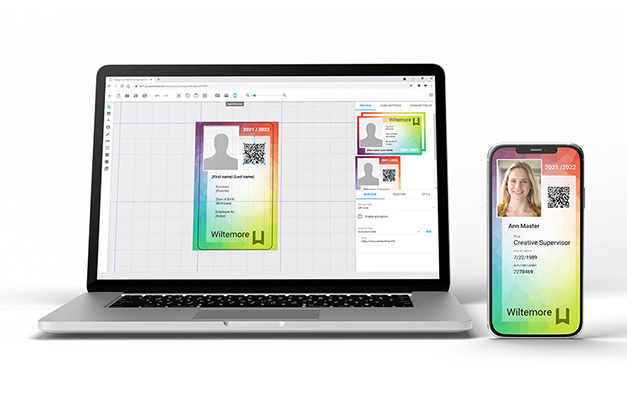 Identificatie met mobiel makkelijk gemaakt
Het maken en verzenden van een Digital ID is heel eenvoudig. Men kan een kopie van de bestaande kaartlay-out verzenden of een aangepast Digital ID-ontwerp maken met de CardsOnline Designer.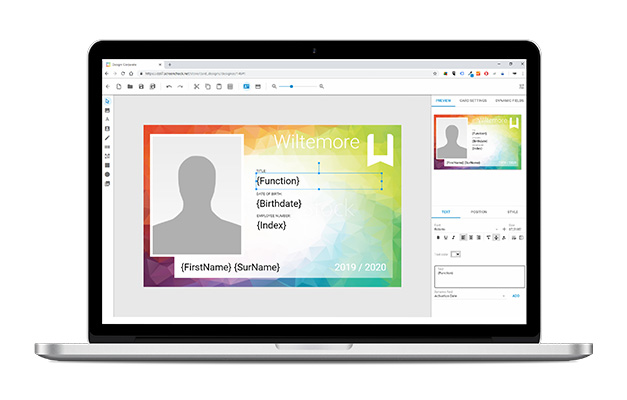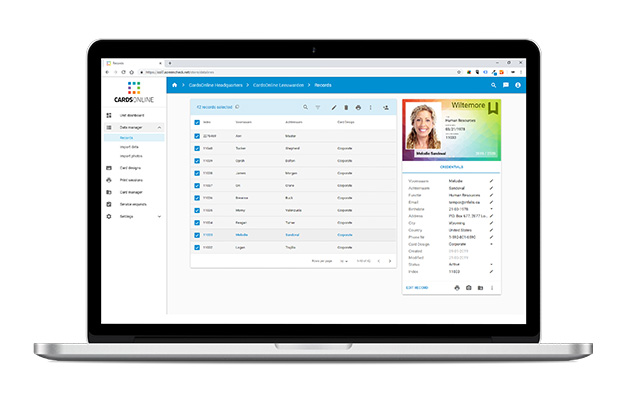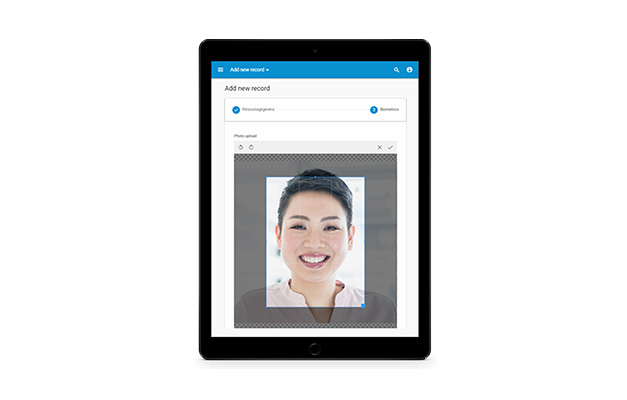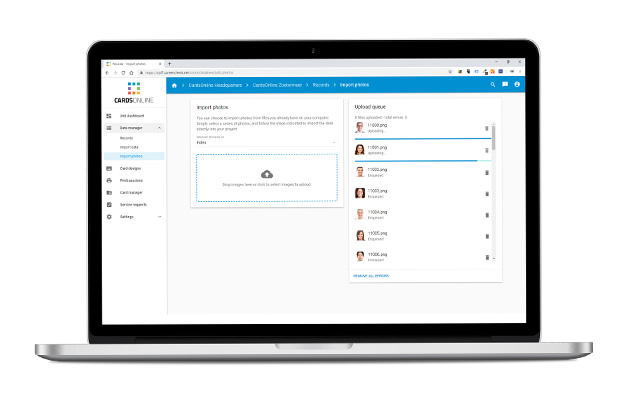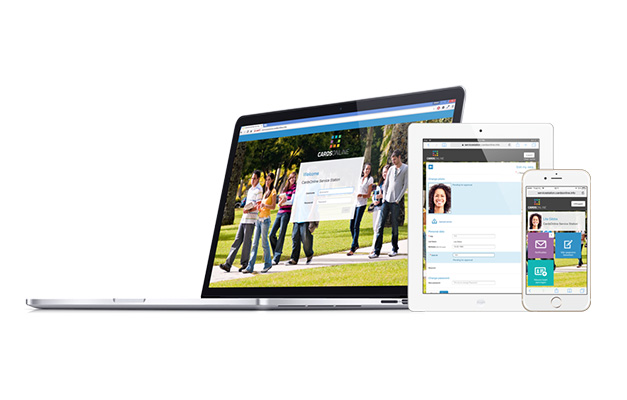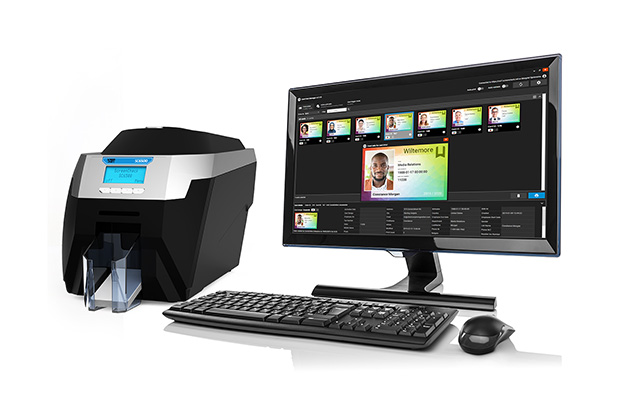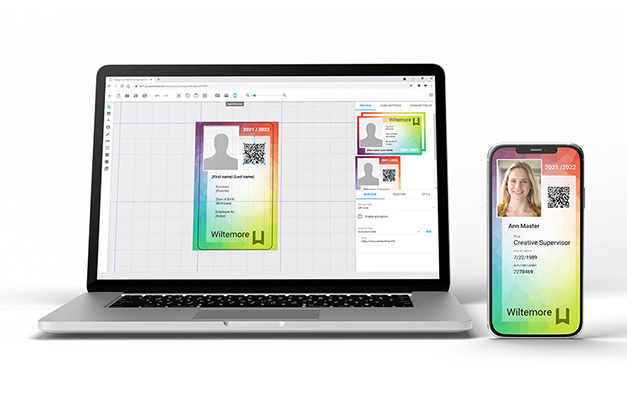 Premium Services
Digital ID
Identificatie met mobiel makkelijk gemaakt
CardsOnline introduceert Digital ID, waarmee het mogelijk is om een digitale kaart naar kaarthouders te sturen. Naast of in plaats van de PVC kaart kan een digitale kaart worden uitgegeven in PDF-, Wallet-pas of Active ID formaat.
Online: bevoegde gebruikers op afstand

Maakt het mogelijk voor bevoegde gebruikers om op afstand toegang te verkrijgen tot de gegevens en bronnen, die ze nodig hebben om de ID kaartproductie te beheren.
Bewaar gegevens in de Cloud

Naast de optie om op een lokaal netwerk te installeren, bieden we ook een Cloud oplossing. Eenvoudig toegang tot de ID software door middel van een web browser.
Creëer professionele kaartontwerpen

Ontwerp uw eigen kaart ontwerpen met onze intuïtieve Kaart Designer, die alle functionaliteit biedt die u nodig heeft.
Maak foto's en voeg gegevens toe

Maak foto's doormiddel van webcam met auto-capture en -cropping functie of TWAIN capture software.
Beheer rollen, kaarten en gegevens

Er zijn drie standaard administratieve rollen en een operater rol. Meer rollen kunnen gedefinieerd en toegevoegd worden. CardsOnline maakt het mogelijk kaartgegevens en uitgegeven kaarten te beheren.
Smart device compatibel

Kan gebruikt worden vanaf desktop computers, als ook vanaf smartphone devices of tablets. Deze bewegingsvrijheid laat het toe om altijd en overal te kunnen werken aan uw kaartproductie, wanneer u maar wilt.

Minimale
systeemeisen
Windows of Linux operating system
Single-core processor,
2 GHz of better
2GB RAM memory
1GB beschikbare harddrive ruimte
Moderne internet browsers
(IE9, Firefox or Chrome)
Aanbevolen
systeemeisen
64bit Windows of
Linux operating system
Quad-core processor,
2.0 GHz of beter
4GB RAM memory
20GB beschikbare harddrive ruimte
Moderne internet browsers
(IE9, Firefox of Chrome)
Software vereisten
MySQL of Microsoft SQL Server
Apache of IIS Server
Volledige administratieve rechten
Ondersteunde
databases
Door slim ontwerp, is het mogelijk te verbinden met alle database engines.
Ondersteunde
Talen
Engels, Spaans, Frans, Duits,
Zweeds en Nederlands