Zebra ZC10L, Print Full, Edge-to-edge Color Kaarten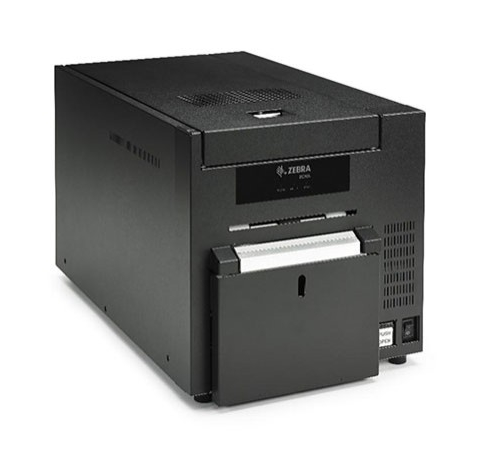 De Zebra ZC10L is de enige grootformaat, direct-to-card printer die full, edge-to-edge color kaarten kan produceren in één printprocess.
Bespaar geld, zowel aan voorbedrukte kaarten als onbruikbare overgebleven kaarten, door direct op verzoek af te drukken wat u nodig heeft. Het is niet nodig om vooraf voorgedrukte identiteitskaarten of badges te bestellen.
Uitzonderlijke fotokwaliteit
Met deze 300 dpi gemodificeerde fotoprinter levert de Zebra ZC10L uitzonderlijke beeldkwaliteit, vooral met achtergrondafbeeldingen en foto's. Ontwerp professionele kaarten van hoge kwaliteit, de grote kaarten bieden voldoende ruimte om een ​​logo of reclame te plaatsen. Plastic pasjes functioneren ook lang na het evenement als aandenken, in tegenstelling tot alleen als toegangstool tijdens het evenement.
Aan te passen flexibiliteit 
Gebruik de ID-software BadgeMaker met de ZC10L's uitstekende fotokwaliteit, print, ontwerp en produceer prachtige, edge-to-edge kaarten met afbeeldingen, tekst, barcodes en afbeeldingen. Omdat kaarten direct afgedrukt kunnen worden, kunnen gebruikers nog met gemak wijzigingen aanbrengen in het kaartontwerp, logo's opnemen en zelfs bezoekersfoto's toevoegen en deze afdrukken op het moment dat bezoekers aankomen.
Grote kaarten zijn gemakkelijk te lezen op afstand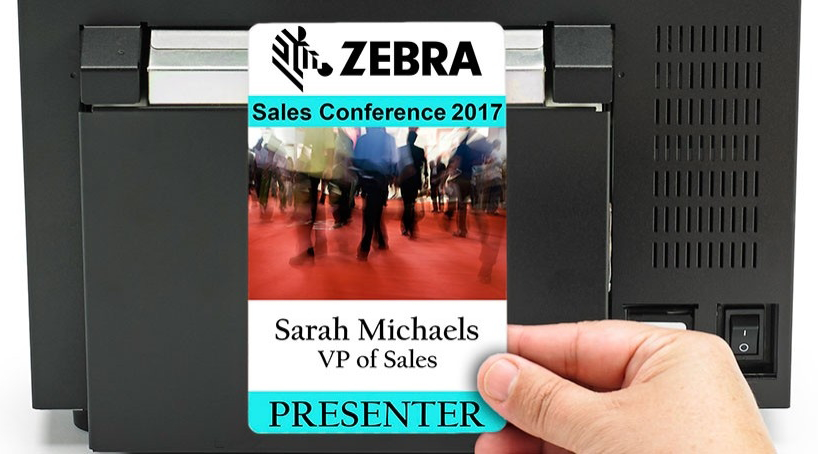 Print grote kaarten, formaat 3,5 x 5,5 (88 mm x 140 mm), met de Zebra ZC10L, die op een afstand beter zicht- en leesbaar zijn. Badges van een groter formaat verhogen de veiligheid door het evenementpersoneel in staat te stellen gasten te identificeren en de toegangsrechten eenvoudig van ver te bepalen.
Langdurig gebruik met duurzame PVC-kaarten
De ZC10L drukt PVC-kaarten af ​​die duurzaam en voor meerdaags of zelfs seizoensgebonden gebruik gemaakt zijn. Maak aangepaste badges met kleurrijke, visueel aantrekkelijke afbeeldingen die normale slijtage bij korte en langere evenementen verdragen.
Neem contact op met ScreenCheck Sales voor meer informatie
Tel: +31 (0)79 360 1165
Email: Sales
Product Details Zebra ZC10L

Zebra ZC10L Specificaties

Print setup: Enkelzijdig Printen
Lamineren: Nee
Garantie Tier: Performance
Fabrikantsgarantie: 2 jaar
Printvlak: Edge to Edge
Connectiviteit: USB
Print methode: Direct to Card
Gewicht (Alleen Printer): 41.9 lbs. / 19 kg
Dimensies: 13″ x 23″ x 18″ (33 mm x 58 mm x 46 mm)
Invoer grootte: Zebra Large Format – 5.5″ x 3.46″
(140mm x 88mm)
Snelheid: tot 190 kaarten per uur
Invoer Hopper: 400
Uitvoer Hopper: 100
Kaartvolume: Hoog
Magneetstrip coderen: Nee
Smart Card coderen: Nee
Prox Card coderen: Nee

Zebra ZC10L functionaliteiten

USB connectiviteit
400 kaartcapaciteit invoerbak
100 kaartcapaciteit uitvoerbak
Multi-status LED operator display
300 dpi print resolutie
64 MB memory standard
2 jaar / 20,000 kaartgarantie op printer
Microsoft® Windows® drivers

Optionele functionaliteiten

Zebra OneCare Service programma
10/1000 Ethernet connectiviteit Externe Print Server

Systeem benodigdheden

Windows 7, 8 en 10 (32 & 64-bit)
Server: Windows Server 2008 en Windows Server 2012

Werkt met ID Software