Digital ID
Identificatie met mobiel
makkelijk gemaakt
Digital ID
Identificatie met mobiel
makkelijk gemaakt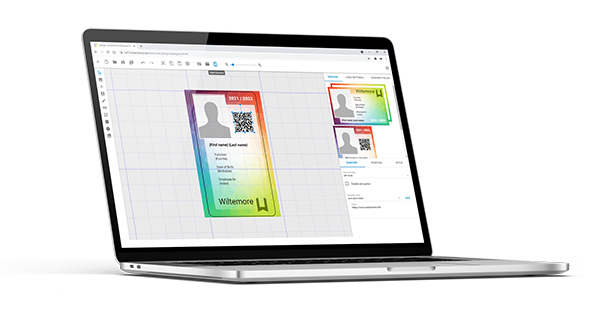 Digital ID
Stuur een Digital ID naar uw kaarthouders
ScreenCheck introduceert Digital ID met CardsOnline, waarmee het mogelijk is om een digitale kaart naar kaarthouders te sturen. Naast of in plaats van de PVC kaart kan een digitale kaart worden uitgegeven in PDF, Wallet-pas of Active ID formaat.
Duurzaam, snel en gemakkelijk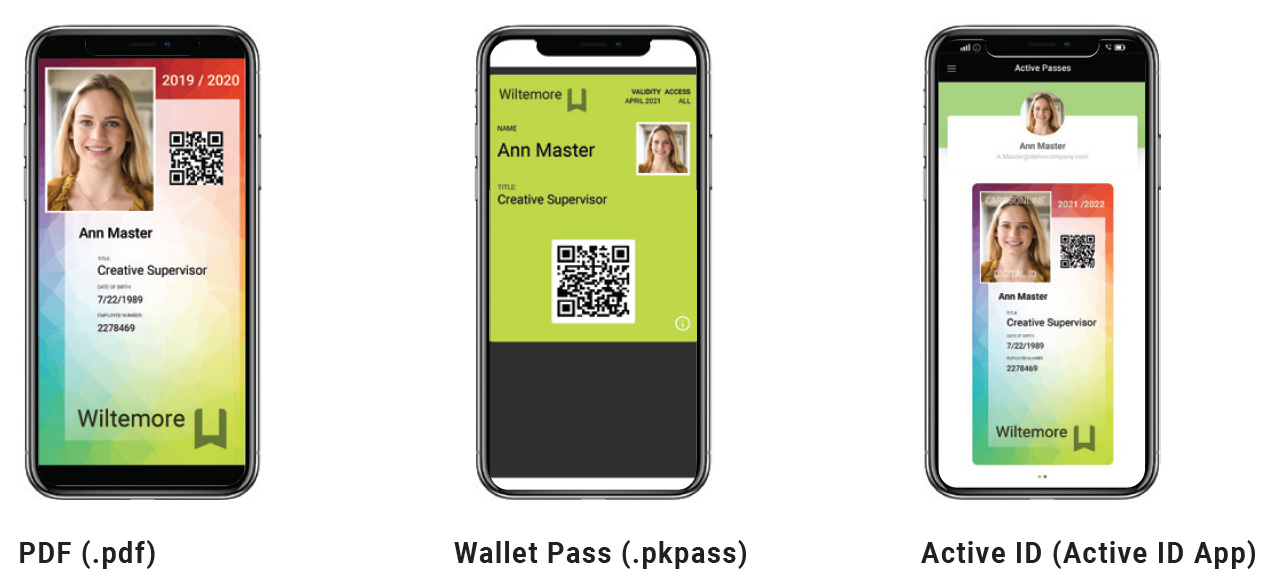 Het maken en verzenden van een Digital ID is heel eenvoudig. Men kan een kopie van de bestaande kaartlay-out verzenden of een aangepast Digital ID-ontwerp maken met de CardsOnline Designer. Voor extra functionaliteit kan eenvoudig een barcode of QR-code worden toegevoegd.
Kaarthouders kunnen gebruik maken van een geprinte kaart en/of een Digital ID. Maak een selectie van de benodigde kaarthouders en stuur ze met een druk op de knop een Digitale ID. Informatie wordt gecodeerd verzonden. De kaarthouders ontvangen een e-mail met een link om hun Digitale ID op te halen.
Gebruik een Digital ID, bijvoorbeeld als vervanging voor een tijdelijke kaart. Bezoekers, medewerkers of studenten die op een geprinte kaart wachten gebruiken in de tussentijd hun Digital ID.

Data Check
Verrijk uw pas met een Data Check QR-code
Data Check is een nieuwe opkomende service in 2022, waarbij het mogelijk is om bepaalde gegevens te verifiëren door een QR-code op een fysieke of digitale ID-kaart te scannen. Scan de Data Check QR-code met elke smartphone of tablet en verifieer bijvoorbeeld toegang, certificering, lidmaatschap of validatie. Data Check toont een kaarthouder-specifieke feedbackpagina op een vertrouwde server die communiceert met CardsOnline.
CardsOnline Data Check biedt verschillende templates om te gebruiken voor validatie, op basis van ID-informatie, een bepaald resultaat, tijdsbeperking of bijvoorbeeld gedane betalingen. Een Data Check-pagina kan een selectie tonen van de gegevens die beschikbaar zijn in CardsOnline. De getoonde gegevens zijn altijd up-to-date doordat bij elke controle de gepresenteerde gegevens uit de CardsOnline database worden opgehaald.
Active ID App
Gegevens op uw Active ID altijd up-to-date
CardsOnline introduceert in 2022 de Active ID-app voor iOS- en Android-telefoons. Bekijk Active ID's direct in de App, gegevens op uw Digitale ID worden actief bijgewerkt. Wijzig de gegevens van kaarthouders in CardsOnline en deze zullen ook veranderen op de Active ID's in de App. U kunt de Active ID-app gebruiken met QR-codes voor een evenement, die bijvoorbeeld na 24 uur geen toegang meer geeft.