Zebra ZC300 Kaartprinter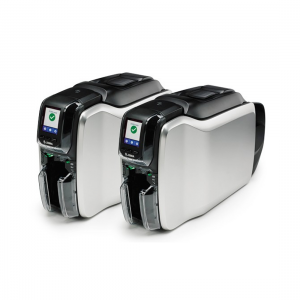 Eenvoudig, flexibel en veilig kaarten printen
ID-kaarten, toegangspassen, lidmaatschaps-, evenement- of betaalpassen. Het maakt niet uit welk type kaart of pas u nodig heeft om te printen, de ZC300 kaartprinter helpt u sneller en gemakkelijker te printen. De elegante techniek waarmee deze printer is gemaakt, elimineert vrijwel alle pijnpunten die verband houden met het printen van kaarten. Het resultaat is dat uw met de eenvoud van een druk op de knop, uw pasjes kan printen. Met het compacte ontwerp van de Zebra ZC300 kunt u uw kaarten printen waar u maar wilt.
Zeer grafische LED / LCD-interface
De Zebra ZC300 dubbelzijdige kaartprinter biedt zeer intuïtieve, goed geteste pictogrammen, animaties en op tekst gebaseerde berichten in uw eigen taal. Gebruikers kunnen zo gemakkelijk begrijpen wat de printer nodig heeft en hoe ze een functie uitvoeren. Inclusief hoe u een printerstoring verhelpt, een lint repareert, een lint of kaarten plaatst en meer.
Pijnloze plug-and-play implementatie
De ZC300 kaartprinter is ontworpen om direct uit de doos te werken. Er is geen tijdrovende ingewikkelde installatie, sluit hem gewoon aan en begin op de dag dat uw printer arriveert.
Baanbrekende nieuwe driver met een grafische gebruikersinterface
De intuïtieve interface in de nieuw ontworpen driver maakt het gemakkelijker dan ooit om kaarten te printen. Instellingen zijn logisch gegroepeerd in tabbladen waar ze gemakkelijk toegankelijk zijn. Een visuele weergave van uw kaart maakt het printen van eenvoudige monochrome of complexe kleurenkaarten even gemakkelijk. U kunt direct zien hoe uw kaart eruitziet en hoe de instellingen van invloed zijn op het ontwerp van de kaart.
Een nieuwe ingenieuze kaartinvoer verwerkt verschillende kaartdiktes
De kaartinvoer past zich onmiddellijk aan de dikte van elke kaart aan, geen aanpassingen meer voor verschillende soorten kaarten.
Revolutionaire nieuwe hopper
De volledig opnieuw ontworpen hopper maakt het laden en lossen van kaarten gemakkelijker dan ooit. Met de uitvoerdeuren in salonstijl hoeft u niets te openen, pak gewoon een kaart of de hele stapel kaarten. De invoer- en uitvoerhoppers hebben dezelfde capaciteit, waardoor de noodzaak om de hoppers opnieuw te vullen en te legen wordt verminderd.
Zonder problemen een printerlint wisselen
Het vervangen van een kaartprinterlint was nog nooit zo eenvoudig en ongecompliceerd, zonder instructies. De nieuw ontworpen lintdeurvergrendeling ontgrendelt en opent in één beweging. De unieke handgreep in deurgreep laat geen twijfel bestaan ​​over het verwijderen of plaatsen van het kaartprinterlint. En met ingebouwde smartchips weet u altijd wanneer u het printerlint moet vervangen.
Meer informatie over de Zebra ZC300 Dubbelzijdige Kaartprinter
Zebra ZC300 Kaartprinter:
Afmetingen: 258 x 157 x 468 cm (HxBxL)
Printtechnologie: sublimatie/thermal transfer
Besturingssysteem: Windows / Mac OS
Voeding: netstroom
Display: LCD-scherm
Geheugen: 2 GB
Barcodes: ja
Resolutie: 300 dpi
Netwerk: USB
Gebruik onze BadgeMaker Software om uw kaarten te ontwerpen en printen met de Zebra ZC300.
Neem contact op met ScreenCheck Sales voor meer informatie.
Tel: +31 (0)79 360 1165
Email: Sales Support