The World's most reliable ID Card Printers
The ScreenCheck ID Card Printer Collection
At the start of the new year ScreenCheck is proud to present the new ID Card Printer collection. To be able to provide all of our customers with a complete ID Solution, ScreenCheck set up a special ScreenCheck collection offering a wide range of reliable ID Card Printers.
Contact us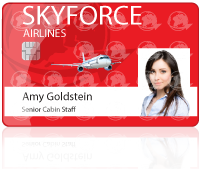 A complete collection of ID Card Printers
High quality desktop card printers for every budget, business and application.

High-quality card printing solutions
The ScreenCheck ID Card Printers are great for printing any type of card from visual IDs to access control and financial cards.

HoloKote, a visual security watermark
All ScreenCheck ID Card printers have the HoloKote feature a built-in, which prints a watermark on the card's surface for extra security.

You can always contact us for help. Drivers, downloads and direct technical support are available on the ScreenCheck website.

Official supplies for the ScreenCheck ID Card Printer Collection, like printer ribbons or plastic cards can be ordered at ScreenCheck or one of our resellers.

BadgeMaker PLAY is our free software version you receive with the ScreenCheck ID Card Printer Collection and a great introduction to learn more about ID software.
Compare the ScreenCheck Printers
Printer
Cards per hour
Input / output
Warranty
Visual security
System requirements
Direct to Card Printers
SC2500
1 card per 35s
Hand-fed
2 year limited
Standard
Windows / Mac OS X
SC4500
100+
100 / 30
3 year limited
Standard
Windows / Mac OS X
SC6500
150+
100 / 70
3 year UltraCoverPlus
Custom and standard
Windows / Mac OS X
ReTransfer Printers
SC7000
100+
100 / 100
1 year
Custom and standard
Windows / Mac OS X
SC7500
125+
200 / 200
3 year UltraCoverPlus
Custom and standard
Windows / Mac OS X