ScreenCheck is excited to announce a new release of our Online Card Management System: CardsOnline 7.2. The one card solution in the cloud CardsOnline 7.2 offers more improvements for security and the extension of the login system with Single Sign On (SSO) options. Next to a good selection of great new improvements, this new version introduces CardsOnline Digital ID.
New Feature: CardsOnline Digital ID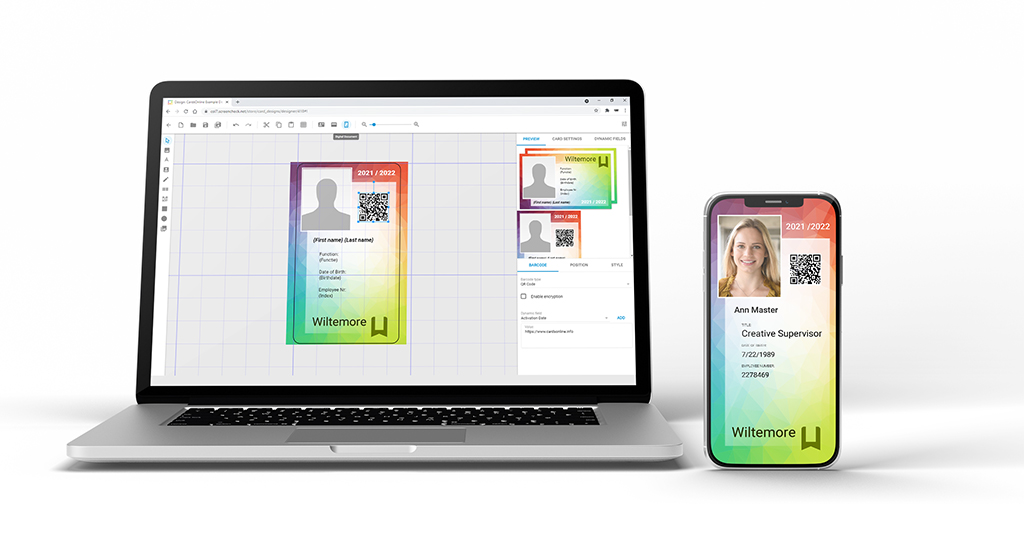 CardsOnline 7.2 introduces the new Digital ID Feature. Now design and send Digital IDs with CardsOnline.
When CardsOnline Digital ID is enabled for a Unit, the Unit Administrator can send Digital IDs. With the CardsOnline Card Designer, create a Digital ID design specific for mobile devices, in portrait or landscape mode, next to the standard card design you use to print on plastic ID badges. If a record only has a standard card design, the standard version will be send as a digital PDF version.
Select the records of the card holders you would like to send a Digital ID, click on the "Send Digital ID" icon and watch the progress of sending the Digital IDs in a progress pop-up. The card holders receive an email with a link to retrieve their Digital ID. The link first opens a Terms of Use page for the card holder to agree to, after which the Digital ID can be downloaded. Next to the download a Digital ID in PDF format will also be sent by email.
The Digital ID can now be used as a temporary or permanent way of mobile identification.
Improvements
The German language is added to CardsOnline 7.2.1. CardsOnline is available in the languages English, Spanish, French, German, Swedish and Dutch.
CardsOnline 7.2 also offers login using a Single Sign On account (SSO), to enter the main application, but also to login to the Card Print Manager (CPM). Organizations can now securely login to CardsOnline with their existing credentials using their SSO account. SSO gives easy and secure access with one set of credentials to services from different applications/systems. Users login with one username and password to all cloud services that your organization uses. A SSO solution can speed up, simplify and make working with your services and CardsOnline more secure.
A lot of improvements in CardsOnline, including some important security updates.
Want to learn more about CardsOnline 7.2.1, request a demo now!