ScreenCheck is verheugd een nieuwe release van ons Online Kaart Management Systeem aan te kondigen: CardsOnline 7.2. De oplossing in de cloud CardsOnline 7.2 biedt meer verbeteringen voor de beveiliging en de uitbreiding van het inlogsysteem met Single Sign On (SSO) mogelijkheden. Naast een goede selectie van verbeteringen, introduceert deze nieuwe versie: CardsOnline Digital ID.
Nieuwe Functionaliteit: CardsOnline Digital ID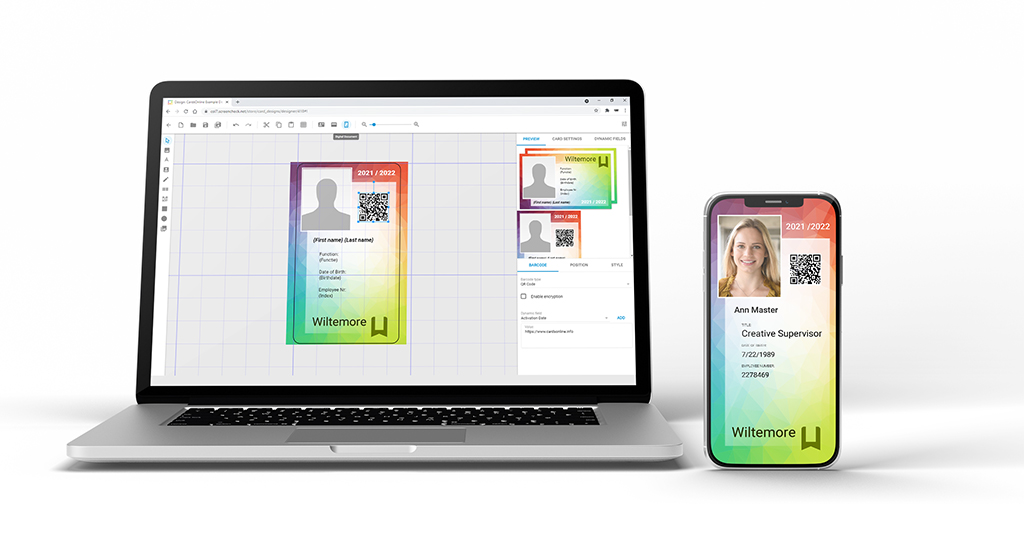 CardsOnline 7.2 introduceert de nieuwe Digital ID functionaliteit. Ontwerp en verzend nu Digitale ID's met CardsOnline.
Wanneer CardsOnline Digital ID is ingeschakeld voor een Unit, kan de Unit Administrator digitale ID's verzenden. Maak met de CardsOnline Card Designer een Digital ID ontwerp dat specifiek is voor mobiele apparaten, in staande of liggende modus, naast het standaard kaartontwerp dat u gebruikt om op plastic ID-badges te printen.
Als een record alleen een standaard kaartontwerp heeft, wordt de standaardversie als digitale PDF-versie verzonden.
Selecteer de records van de kaarthouders die u een Digitale ID wilt sturen, klik op het pictogram "Digitale ID verzenden" en bekijk de voortgang van het verzenden van de Digitale ID's in een voortgangspop-up. De Kaarthouders ontvangen een e-mail met een link om hun Digitale ID op te halen. De link opent eerst een pagina met gebruiksvoorwaarden waarmee de kaarthouder akkoord kan gaan, waarna de Digitale ID kan worden gedownload. Naast de download wordt er ook een Digital ID PDF per e-mail verzonden.
De Digital ID kan nu worden gebruikt als een tijdelijke of permanente manier van mobiele identificatie.
Nieuw en verbeteringen
De Duitse taal is nieuw toegevoegd aan CardsOnline 7.2. CardsOnline is beschikbaar in de talen Engels, Spaans, Frans, Duits, Zweeds en Nederlands.
CardsOnline 7.2.1 biedt ook inloggen met een Single Sign On account (SSO), om toegang te krijgen tot de hoofdapplicatie, maar ook om in te loggen op de Card Print Manager (CPM). Organisaties kunnen nu veilig inloggen op CardsOnline met hun bestaande inloggegevens met behulp van hun SSO-account. SSO geeft eenvoudig en veilig toegang met één set inloggegevens tot diensten van verschillende applicaties. Gebruikers loggen met één gebruikersnaam en wachtwoord in op alle clouddiensten die uw organisatie gebruikt. Een SSO-oplossing kan het werken met uw diensten en CardsOnline versnellen, vereenvoudigen en veiliger maken.
Veel verbeteringen in CardsOnline, waaronder enkele belangrijke beveiligingsupdates.
Wil je meer weten over CardsOnline 7.2.1, vraag dan nu een demo aan!