SC2500 ID Kaartprinter
De meest compacte kleur ID Kaartprinter voor de beste prijs
De ScreenCheck SC2500 printer bestaat uit een handmatige invoer aan de voorkant, die het mogelijk maakt direct en binnen enkele momenten een gepersonaliseerde kaart te produceren. Van rand tot rand en scherpe afbeeldingskwaliteit printen in een compacte en betrouwbare verpakking.
Herschrijf technologie
Gebruikmakend van speciale herschrijfbare kaarten kan deze ID Kaartprinter dezelfde kaart meerdere keren printen en wissen in monochrome blauw of zwart, ideaal voor bezoekerspassen of tijdelijke kaarten.
Opties voor uitbreiding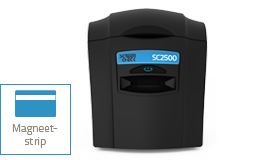 SC2500 Magneetstrip coderen
Magneetstripcodering is beschikbaar voor de SC2500 als beveiligingsoptie voor op een ID-kaart.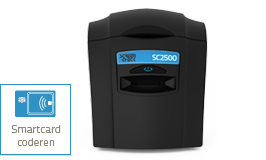 SC2500 
Smartcard coderen
Smartcard inline codeeropties zijn beschikbaar voor de SC2500 als extra elektronische beveiliging op een multifuntionele kaart.

Printer specificaties
Printmodus
Kleur dye sublimation, monochroom thermisch printen en herschrijfbare technologie.
Visuele beveiliging
De gebruiker heeft de optie om een ​​HoloKote® security watermerk over de kaart oppervlak af te drukken. Bij gebruik in combinatie met HoloPatch® kaarten, is een gebied van het HoloKote watermerk benadrukt als een hoge zichtbaarheid verzegeling. Een keuze uit 4 vaste HoloKote patronen worden geselecteerd in de printerdriver.
Kaartcodeeropties
Magneetstripcodering Smartcardcodering: Contactchip, MIFARE®, DESFire® and iClass®
Garantie**
2 jaar beperkte garantie depot.
Printer interfaces
USB rev1.1 (USB 2.0 compatibel).
Driver compatibiliteit
Windows XP, Vista, 7, 8.1, 10 (32 en 64bit) Windows server 2003 R2 SP2, 2008, 2012, 2016. GNU/Linux en Mac OS X 10.9.0 en verder.
Gewicht
4.4kg (9.7 lbs)
Krachtbron
Externe voeding 100-240V 50-60Hz autoranging.
Afmetingen
270mm L x 215mm W x 233mm H (10.6" L x 8.4" W x 9.1" H).
Omgeving
Beschermde kantooromgeving 10°C to 30°C (50°F to 85°F).
Printsnelheid
35 seconden voor kleur en 7 seconden voor monochrome.
Standaardfunctionaliteiten

Optionele functionaliteiten