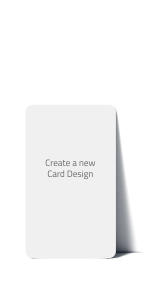 Maak kaartontwerpen in een paar eenvoudige stappen:
BadgeMaker Design maakt deel uit van het volledige BadgeMaker-pakket waarmee u uw eigen, professionele kaartontwerpen kunt maken, met  bijvoorbeeld afbeeldingen, dynamische velden, vormen, logo's, barcodes, handtekeningen en pasfoto's.
Stap 1: Een nieuw kaartontwerp maken
Start een nieuw kaartontwerp in BadgeMaker Design en stel uw ontwerpvoorkeuren in, zoals het kaartformaat, dit kan een standaardformaat zijn zoals het CR80-kaartformaat of een aangepast formaat. Selecteer of de kaart enkel- of dubbelzijdig moet zijn, met of zonder Magstripe en of uw ontwerp staand of liggend is.

Stap 2: Voeg een achtergrond & logo toe
De volgende stap bij het maken van een kaartontwerp is een achtergrond. Kies een lege achtergrond of gebruik het vorm- of afbeeldingsgereedschap om een ​​achtergrond te maken. Voeg een logo-afbeelding toe aan de kaart om de identiteit van uw bedrijf toe te voegen. Gebruik de afbeeldingstool, klik op het kaartontwerp op uw canvas en selecteer uw logo-afbeelding. Verklein het logo met de handlers in de hoeken van de afbeelding.
Stap 3: Statische & Dynamische tekst

Na het toevoegen van een achtergrond en logo is het tijd om tekst toe te voegen aan je kaartontwerp. Maak gebruik van statische en/of dynamische tekst. Gebruik statische tekst wanneer een kaartontwerp geen gepersonaliseerde gegevens bevat, zoals een cadeaubon. Gebruik dynamische data wanneer een kaartontwerp voor meerdere werknemers is. De lay-out blijft hetzelfde, maar de gegevens veranderen voor elke geprinte kaart.
Stap 4: Voeg een foto of handtekening toe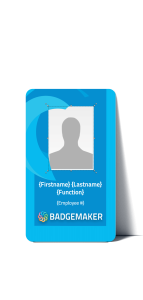 Om een ​​kaart te personaliseren, kunt u een tijdelijke aanduiding voor een ID-foto toevoegen, die automatisch wordt gekoppeld aan de ID-foto's van de kaarthouders in uw BadgeMaker Identity-project. Een tijdelijke aanduiding voor een handtekening kan ook aan uw kaartontwerp worden toegevoegd. De tijdelijke aanduiding voor handtekeningen is ook gekoppeld aan de handtekeningen van de kaarthouders in uw BadgeMaker Identity-project.