Dit is een notificatie voor onze CardsOnline 6 gebruikers. Vanaf 2021 zullen updates van webbrowsers zoals Edge, Chrome, Firefox etc., Adobe Flash niet langer ondersteunen. Voor de huidige CardsOnline 6 gebruikers betekent dit, dat vanaf de nieuwe 2021 Browser releases, de functie van de Kaartontwerper en de Foto-opnametool niet langer zullen werken: deze onderdelen maken gebruik van een Flash plug-in van uw browser. Zolang browserversies van voor 2021 gebruikt worden, zullen deze problemen zich niet voordoen en kan men de Kaartontwerper en de Foto-opnametool blijven gebruiken.
Wanneer men toch update naar nieuwe 2021 versies van de browsers, is er een alternatief voor het opnemen van foto's. Met de functie "Windows Camera" kan op eenvoudige wijze een foto worden gemaakt, ge-upload naar CardsOnline, indien nodig bewerkt en opgeslagen. Deze werkwijze is helder uitgelegd in de bijgaande instructievideo.
U kunt de video bekijken op de CardsOnline YouTube Channel.
Wanneer er behoefte is aan een aanpassing in een bestaand of een nieuw kaartontwerp, kan ScreenCheck dat voor u doen. Hiervoor kunt u contact opnemen met ScreenCheck of uw CardsOnline partner. Met bovenstaande oplossingen kunt u de komende jaren nog probleemloos gebruik maken van uw CardsOnline 6 applicatie. CardsOnline 6 zal nog worden ondersteund tot 31-12-2022.
Dit betekent End-of-Life voor de CardsOnline 6 versie vanaf 01-01-2023.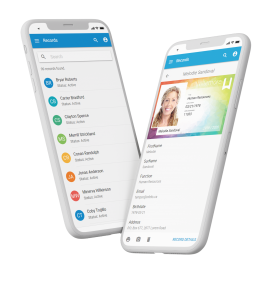 Het alternatief voor uw huidige applicatie is CardsOnline 7. Deze nieuwe applicatie biedt de gebruiker een hoop verbeteringen, zoals een volledig nieuw ontwikkelde intuïtieve interface, een geheel nieuwe online Kaartontwerper (HTML 5) en mogelijkheid van 2-Factor Authentication (2-FA) en Single Sign On (SSO). De nieuwe 2021 releases van bekende webbrowsers zijn voor CardsOnline 7 geen enkel probleem.
Voor meer details over CardsOnline 7 hebben wij productinformatie bijgevoegd. Ook verwijzen wij u graag naar onze website www.cardsonline.info.